Helping the Holme Valley to
plant some seeds to save the bees
to celebrate the Queen's Platinum Jubilee

Holme Valley Parish Council wanted to get people of the Holme Valley to create more areas for bees to thrive. So they decided to start by approaching schools in the Holme Valley in May 2022 as part of the Queen's Platinum Jubilee celebrations and give the pupils some seeds to sow in the valley. 
We are delighted that all 13 schools in the Holme Valley took part in our Jubilee Wildflower and Tree Planting Project to mark this national celebration.
We hope this helps to create a lot more Climate Champions in the Holme Valley to help us get to our target of being carbon neural by 2030.
We went into the

13 schools in the Holme Valley

and gave 15 assemblies where we talked about the Queen's Jubilee,  local activities taking place to help our environment, why helping our environment matters and how we can all be a 'Climate Change Champion'. To see a video of the presentation click here. To download a copy of the presentation click here
We gave a 'bee bomb' to every primary school child and some of the secondary school pupils, 2,200 bee bombs in total. so they can plant the seeds to save the bees
All 13 schools were provided with a total of 11kg of wildflower seeds to plant in the school grounds
There was a poster competition for each school for the children to design a poster to celebrate the Jubilee Save the Bees project. To see the winners click here.
'We are planting a tree (hazel, silver birch, rowan or crab apple from The Woodland Trust) at each school this autumn which will  form part of the nationwide Queens Green Canopy and a long-standing legacy of the project.  For more information on tree planting please see the video below
Each school was given a flyer with information about all the activities that took place including planting wildflowers on school grounds which you can view here
Each of the bags in the picture contains several bee bombs or seedballs. 
Each bee bomb has little seeds in soil pellets which you can scatter on the ground.
Seedballs are an ancient method of farming that is less destructive to the wildlife buried in your garden, less labour intensive and increases germination rates. Used throughout the world for hundreds of years, we are now using this ingenious method to help #bringthebeesback
These will then grow into wildflowers.
Watch this video to see what they look like and how it works.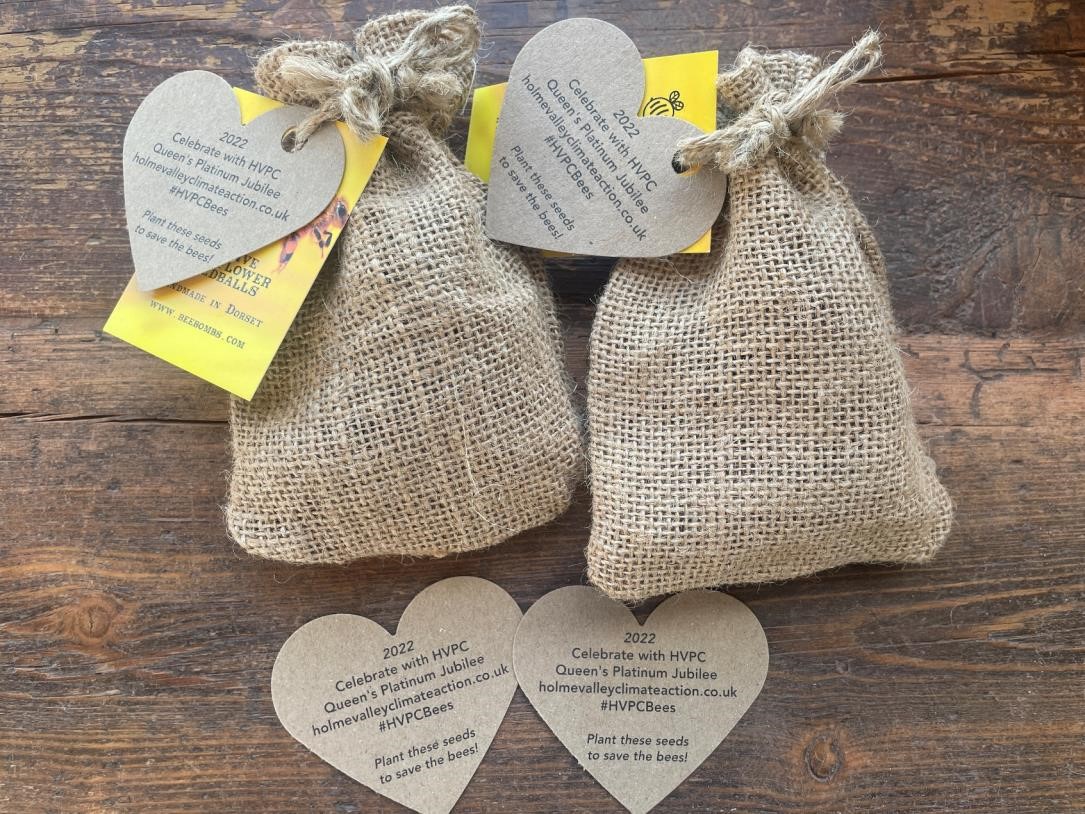 What will happen to a Bee Bomb
They're very easy to plant as you just scatter them on the ground. You can do this in your garden, in a flower bed, on a pot on your windowsill or just a piece of grass anywhere outside or in the corner of a park. Watch this video to see how they grow
Why are Bees so Important?
Bees matter to us as they pollinate and help plants grow, breed and produce our food.
Bees pollinate 80% of wildflowers and many of the things we eat depend on bees like apples which only grow new apples each year if they are helped by the bees.
We are all connected in nature as all our food depends on plants growing.
If you want to know more about why the bees are so important click on the picture below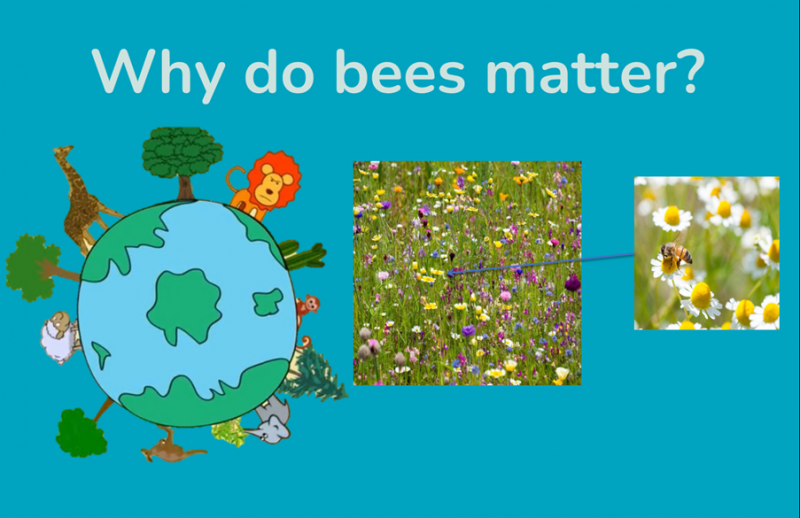 If we all do the small things together, we can make a big difference
If you would like to get involved and become a climate champion explore the Holme Valley Climate Action site further. This site is packed with information to help the Holme Valley become Carbon Neutral by 2030.  Please take a look around…
We learnt a lot about tree planting with this project. The most fascinating part was where you should put your tree in the hole and why you should stamp the soil down. Watch the video to find the answers. 
Why should we plant trees?
We are planting lots of trees across the world. The Queen's lasting legacy is the Green Canopy which is recording where thousands of trees are being planted throughout the UK but why? How does this help the environment? This video explains all